Sandwich Fillers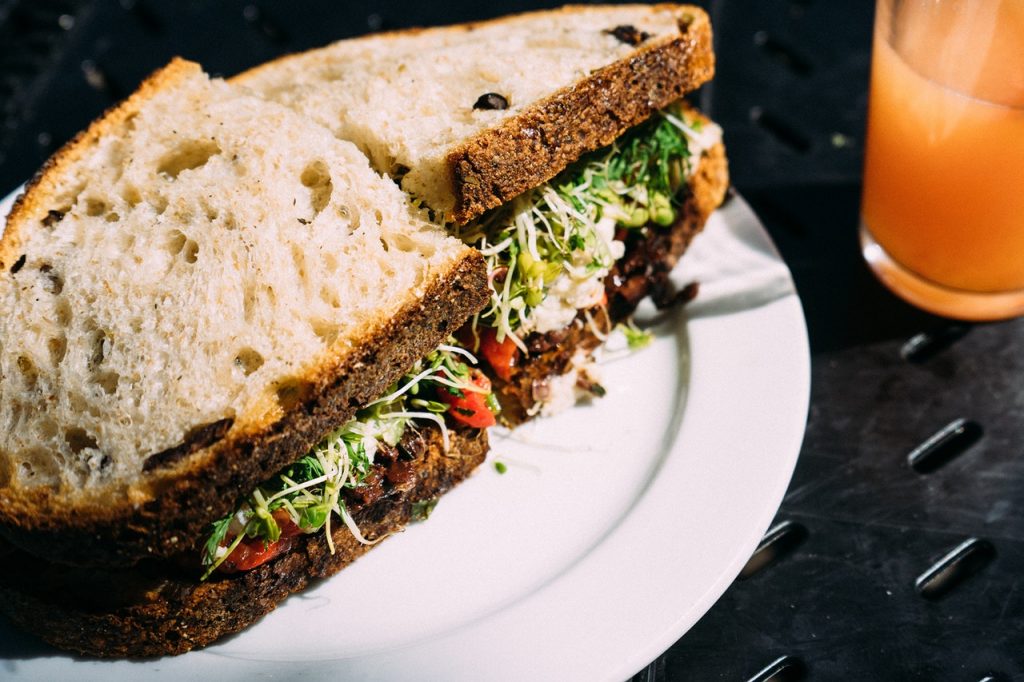 Ahhh, the humble sanga… so often a last minute addition to a lunchbox using whatever is left over in the fridge (cheese slices again??), or, at the other end of the scale, a gourmet-crafted cafe creation, at an appropriately gourmet price.
Sandwich fillings can be many and varied, and nutritionally can pack everything you need to power through the afternoon.
With just a little thought beforehand, there's no need for sandwiches to be boring. Here are a few ideas:
Think first about bread varieties
Bagel, Bread roll, Cracker bread, Rice cakes, English Muffins for toasting.
Sliced bread, Cobb, Tortilla, Flat breads - Lebanese / Lavash breads, Naan, Pide. Foccacia.
Plenty of variety will keep it all interesting.
Protein for building and repairing muscle
Chicken breast / Chicken pieces.
Ham / Pastrami / Triple smoked ham.
Felafel.
Tuna / Salmon / Mackerel / Kippers / Sardines.
Smoked trout / Salmon / chicken breast.
Prawns.
Turkey.
Eggs.
Roast meats - lamb / beef / Turkey / Chicken.
Salad Items  - vitamins, minerals and fibre,
Vegetables are very low in calories
(except Avocados, which are naturally high in healthy fat)
Carrot.
Cucumber.
Baby Spinach.
Lettuce varieties, Cos / Mesclun.
Tomato.
Avocado.
Capsicum.
Red Onion.
Shallots / Spring Onions.
Tabbouleh.
Processed Items
Sweet Corn (Creamed or in Brine).
Pickled or Roasted Vegetables eg: Eggplant / Capsicum, sundried tomatoes, olives (3-5 at a time).
Capers.
Gherkins (Pickled Cucumber).
Cheeses
Cream / Cottage Cheese / Ricotta / Fetta / Cheddar / Brie / Camembert/ Vintage varieties.
For a taste sensation…try these condiments
Sweet chilli sauce.
Hummus / Tahini / Tarasalmata /Tsat.
Horseradish.
Mustard.
Mayonnaise.
Lemon / Lime Juice.
Low fat sour cream.
Red Onions.
Shallots.
Mango Chutney.
Apricot Chutney.
Cracked Pepper.
Fresh herbs, Basil, Mint.
Cranberry Chutney.
Sandwich filler suggestions
Roast Beef, tomato chutney, red onion, lettuce and 2 slices of Brie.
Roast Lamb, Fetta and Hummus, mesclun lettuce.
Chicken, Avocado, mayonnaise, lettuce.
Egg, Mayo & Lettuce.
Egg Mayo, sweet corn (strained) and chives.
Curried Egg, mayo and lettuce.
Smoked trout with tomato and red onion.
Smoked salmon, cream cheese, lettuce and capers.
Salmon, cucumber.
Ham, Gherkin and cheddar cheese.
Roast Turkey breast, camembert and Cranberry sauce.
Chicken, sweet chilli sauce, mayo and avocado with lettuce.
Ham and salad
Why not create your own specialty?
Don't forget that your bread choices affect fullness and fibre intake.